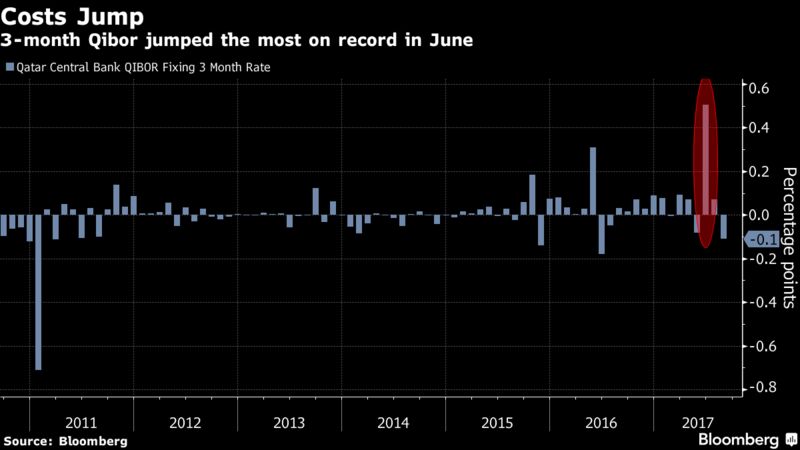 Banks in the world's wealthiest nation per capita will need to offer more yield if they tap the market as almost half of their traditional investor base has cut ties with the country.
Qatar National Bank QPSC, Commercial Bank QSC and Doha Bank QSC are considering funding options that include loans, private placements or dollar bonds, people familiar with the plans said. But investors and analysts say the lenders will have to pay more to compensate for the region's political risk to drum up interest.
Read More: QNB Is Said Among Qatari Lenders Seeking Funding Amid Spat
Saudi Arabia and other Arab nations severed relations with Qatar two months ago accusing it of supporting extremist groups, a charge it denies. That led to a drop in foreign deposits in June, the steepest in almost two years, and a record jump in the three-month Qatar Interbank Offer Rate.
Here's what analysts and investors had to say about borrowing costs for Qatari banks planning to tap the market:
While borrowing costs will rise, "the assumption of government support means yields won't rise that much," said Max Wolman, a London-based senior investment manager who helps oversee $11 billion in emerging-market debt at Aberdeen Asset Management Plc.

There could be interest from some Asian investors, given they were involved in some of the recent Middle East sovereign deals.
"If they look attractive from a yield perspective we could buy them. Currently we are very underweight Qatar" because the yields weren't attractive
Looking at QNB's dollar-denominated bonds due September 2021, the yields peaked at 3.8 percent and are currently around 3.1 percent, "so I would say a five-year at 3.5 to 3.75 percent would be attractive."

Even if they offer "200 basis points over midswaps, I would not lend to them at this rate, as it will not cover for the risk of further deterioration," said Marina Davies, a London-based senior credit analyst at Pioneer Investment Management Ltd., a company of Amundi Group that oversees over $1 trillion globally.

"Basically, we are talking not only about the price, but about the availability of such funding, as so far the banking system seems to be having capital outflows."
"For now, if they don't manage to raise money, the authorities will provide it as they have been doing until now. The short-term debt of the banks is significant, and it does not seem to be renewed. The sovereign is plugging it for now, but providing just enough foreign currency to compensate for the outflows."
"However, we don't know how liquid the sovereign funds are, and we can expect that the asset quality of the banks may deteriorate. Therefore, I believe the current levels don't reflect the credit risk of this system."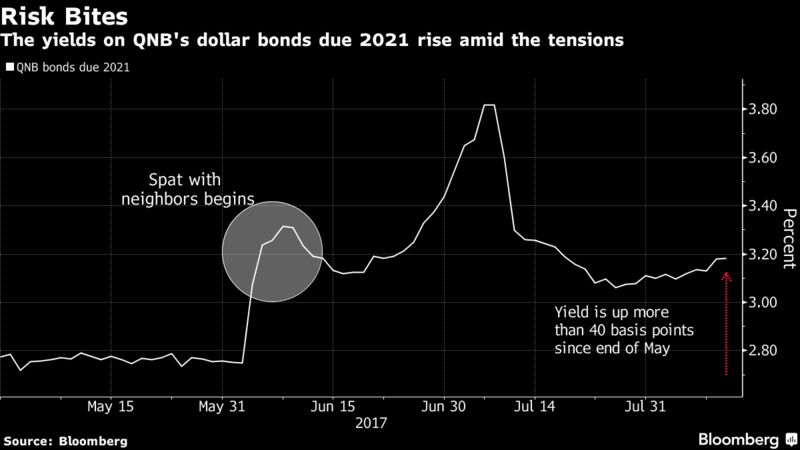 The risk premium demanded by the market has already gone up, after Moody's Investors Service lowered their outlook on Qatari Banks, said Rami Jamal, a money manager at Amwal LLC in Doha, which oversees around one billion riyals ($270 million) in assets.

"Pricing thus becomes dependent primarily on the currency and the tenor of the debt. If QNB is looking to raise debt for five years in U.S. dollars, for example, the market will not accept anything below 3.50-3.75 percent range."
"QNB has plenty of short-term funding maturing in the next two years."

Asian investors could help Qatari banks keep yields on offerings relatively low, according to Zurich-based Philipp Good, who helps manage about 9 billion Swiss francs ($9.4 billion) at Fisch Asset Management AG.

"My best guess is that they find partners who give them money at a very low premium to current market prices."
"Asian investors are still keen to put money into the Middle East and I do not doubt that they will get the money at similar spreads" as previous sales.
"I would expect no additional premium from where the market is today. Repricing has taken place already."

Deterioration in the economy and possible further downgrades of Qatar's long-term debt will drive local institutions to pay higher spreads as a result of the risk premium, said Tariq Qaqish, the managing director of the asset management division at Mena Corp. Financial Services in Dubai.

"In the short term, psychology will pay a big role in pricing new debt issues as investors are uncertain of the magnitude of the problem and, most importantly, the length."
"As deposits decline and the average loan-to-deposit ratio rise, I expect most banks to tap the market and to pay a risk premium of 15-20 basis points."
Qatari bank bonds maturing this year:
Issuer

Bonds

Maturity

Amount due (in $ million)

QNB
13
Aug. 26 – Dec. 27
382
QIB
1
Oct. 10
750
QIIB

Source:-bloomberg

1
Oct. 18
700