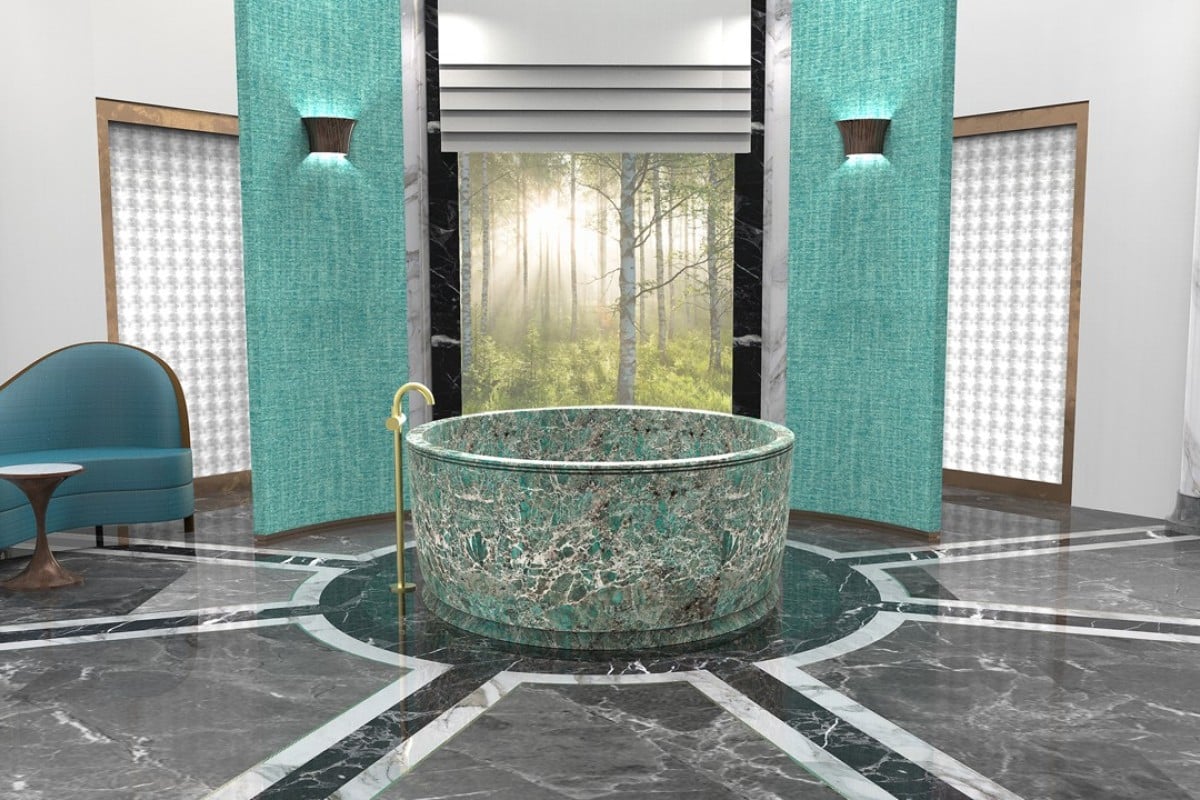 WHO: Francis Sultana is an award-winning interior and furniture designer, with his eponymous company based in London. He is described as the go-to interior designer for international art collectors, with a reputation for merging residential requirements with large-scale visual art, sculpture and installation pieces. Alongside interiors projects, the atelier also produces annual collections of bespoke and limited-edition furniture and textiles.
While some residential bathrooms are designed to create a spa-like ambience, they are too often more about function than fabulousness, something that Francis Sultana would like to see change. He encourages a return to the days of the decadent boudoir, which incorporated a lavish and large bathroom in which to spend time alone.
"I feel that making a bathroom a place of escape and contemplation rather than practicality is something we have lost recently. I hate that bathrooms are often an 'after thought' and hidden away. I want the bathroom to reclaim its role and to be a space worth spending time in," Sultana says.
For this fantastic design, Sultana took inspiration from a number of sources. "The bathroom is inspired by Hollywood glamour from the art deco period as well as baroque [influence]. It's also inspired by Parisian designer Armand-Albert Rateau, one of the great designers from the art deco period, who designed [Jeanne] Lanvin's home."
The shape is intentional, Sultana says. " I have designed this as an oval-shaped room as it's a pleasing shape to live with – no angles, just soft elliptical lines which are sensual and romantic – and which is ideal for a boudoir/bathroom that's all about personal indulgence and offering yourself time alone."
"It would be extremely decadent and luxurious, using only the finest materials," he adds. He also wants to feature some materials that the company uses in its favourite furniture pieces, such as rock crystals. The colour options are white or pink. He says these colours are elegant and their tactile nature is perfect for the vanity area.
Sultana also wants to incorporate nature in his design. "Inspired by forest bathing, with large windows opening into nature, [the bathroom allows you] to be at one with the environment while also being in the lap of luxury, which is a wonderful combination."
How to design a bathroom that adds opulence to your lifestyle
He says that designers often forget about windows in a bathroom, but here the intention is to look at nature and allow the calming influence of greenery and trees to act as a focal point of the room. "The windows encourage you to stop, sit and contemplate the world."
Other design features include a grand entrance, with large sliding doors. "As I love to feature art and design in my work, I have incorporated a Mattia Bonetti piece which offers colour and playfulness to the interior. A bathroom/boudoir should not just be functional – it should also [be whimsical]."
THE WINDOWS ENCOURAGE YOU TO STOP, SIT AND CONTEMPLATE THE WORLD.
At the centre of the bathroom will be gilded gold columns. A huge free-standing bath in the centre acts as a "stage" from which to take in the breathtaking views. A large chandelier above the bath will add drama, with the rest of the lighting intentionally subtle yet flexible so it can be adjusted, depending on the mood and the time of the day.
For Sultana, the ultimate purpose of the design is to allow the user to be immersed in another world and time. "It's about creating something that is ultimately for the user's enjoyment. This isn't about meeting the needs of the entire family. It's about designing a space for just you."
source:-.scmp