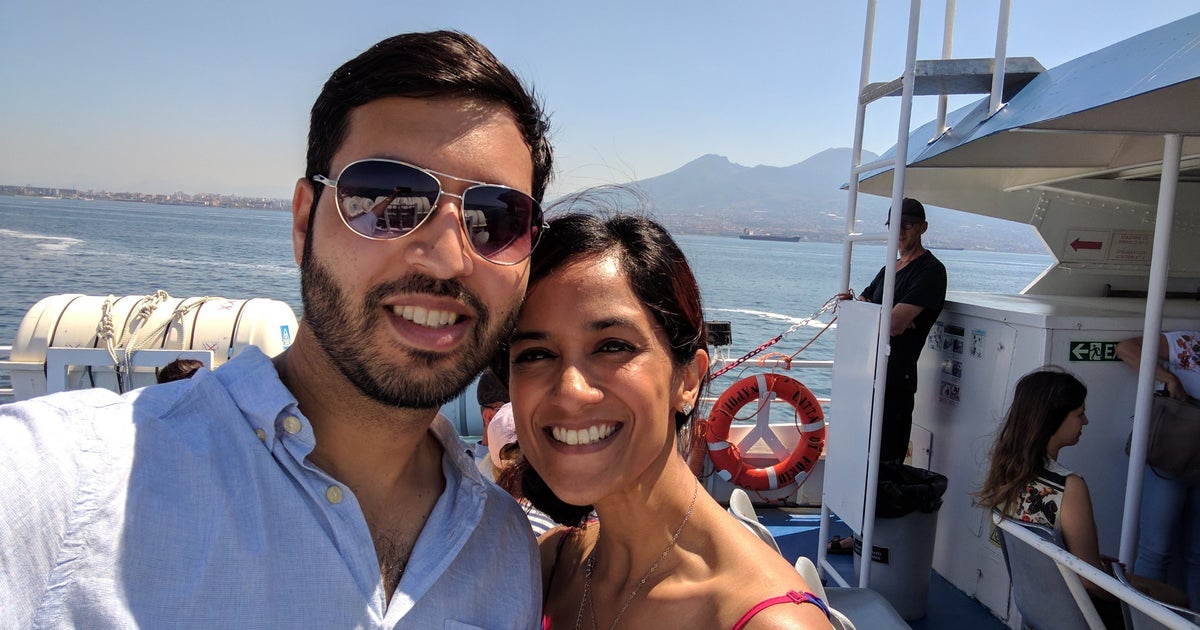 With more couples choosing to live together before they get married, the traditional wedding gift list is often redundant. The average UK wedding now costs more than £27,000, so who wants an extra toaster, new kettle or spare bread-maker when what you really need is some help with funding your honeymoon?
 It's fair to say that Prince Harry and Meghan Markle probably aren't staring at their bank accounts in desperation having run over budget on flowers or chair covers, but the pair have recently requested that the public make donations to charities of their choice, rather than send traditional presents. And for the six couples featuring in 'Not The Royal Wedding', HuffPost UK's series following the journeys of people also getting married on 19 May, traditional gift lists won't be playing a part either.
 Shailesh Patel and Monica Chauhan are having two weddings this summer: a civil ceremony in May followed by a Indian wedding later in the year. The pair are not having a gift list, although money is traditionally given at Hindu weddings as a form of blessing. "As cliche as it sounds, the best present for us is having our friends and family around us on the big day," Monica says.
Childhood sweethearts Dafydd Thomas and Ceri Evans have also decided to go for the fuss-free option. A traditional gift list would feel "too awkward" they say. "We thought about it and decided we don't want to do one," the groom-to-be says. "If people ask, we tell them if there's anything specific, but for the rest of them we've just left it to see what they do."
Agreeing with Dafydd, Julie Spencer says she and her partner Gary Miller have decided not to organise a list, and instead have told their guests "their presence at the wedding is enough".  If family and friends do wish to give the couple a gift, they've said money towards their honeymoon "would be useful".
Jo Want and Will Tarran, who are busy organising their festival-style wedding in Cambridge, have combined the modern approach of asking for honeymoon contributions with the style of a more traditional list.  The couple have created an account on the gifting website Patchworkit, which allows guests to pay towards specific things via Paypal. Friends and family can choose options ranging from a £5 "a beer on the beach" to a £58 helicopter ride.
After months of wedding planning, our couples are looking forward to their honeymoons. In fact, blogging on HuffPost UK, travel planner Irina Vishnevskaya says for some couples, the honeymoon is even more important than the wedding.
"Weddings are about parents, about grandparents, and about showing your friends a good time," she says. "What's great about honeymoons is that it's really, truly, actually just about the two of you."
To get that quality couple time, Dafydd and Ceri are heading to Playa del Carmen in Mexico, a destination recommended by Ceri's parents, who have visited the destination twice.
[READ MORE: Not The Royal Wedding #4: Buying 'The Dress' Doesn't Always Go As You'd Expect ]
Julie and Gary will be flying to Kuala Lumpur for four days before flying to Bali for a 10 day holiday. They are most excited about travelling business class for the first time and "experiencing amazing places together as husband and wife".
The couple are not keen on sunbathing so will have an active two weeks, although they've not got specific plans. "We will find anything that makes us buzz," Julie jokes.
By contrast, avid explorers Jo and Will have fully planned their honeymoon. Like 15% of couples, according to Hitched's 2017 wedding survey, they are planning to enjoy a mini-moon, before heading off to their proper post-wedding holiday. They're starting off in a campervan in the Cotswolds and the Brecon Beacons before their main trip, which begins in Disneyland Paris "something Jo's always wanted to do". They'll then fly to the French island La Réunion. "We're not so keen on relaxing beach holidays, so Réunion is a great option for a bit of beach sunshine, but with volcanoes, jungles, canyons and plenty of other exciting stuff," Will says.
Shailesh and Monica are much less organised, having yet to pick a honeymoon destination, although they're leaning towards "the floating huts in the crystal clear waters in the Maldives" – for the last two years, the south Asian island has been found the most popularhoneymoon destination by Tourism company Kuoni Travel.
"Given the amount of time and effort it's taking me and Monica to plan two weddings, we just want a break somewhere relaxing where we don't have to lift a finger," Shailesh says.
Which sounds amazing! We'll be catching up with them along the rest of our 'Not The Royal Wedding' couples next week, when we'll be discussing handmade touches that are making their weddings unique.
source:-.huffingtonpost