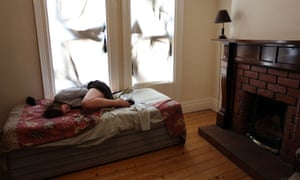 The number of calls to the modern slavery hotline has doubled in a week after the National Crime Agency's report on the "shocking" scale of the problem.
The helpline, for people to report suspicions of modern slavery, received 150 calls in seven days this week, up from a weekly average of 75.
The surge came after the agency said modern slavery and human trafficking were far more prevalent than law enforcement had previously thought.
In a recent crackdown, the NCA said it had lifted the lid on the "shocking" scale of the crime, with potentially tens of thousands of victims in the UK.
Justine Currell, executive director of Unseen, an anti-slavery and anti-trafficking charity, said the warning had prompted a sharp rise in calls to them.
People were reporting workers at car washes, in construction and nail bars, she said. These workers often received low pay and endured poor living conditions. "[The calls] are still coming in thick and fast, we refer them to the police whenever we can," Currell said.
"Some say they got their car washed in the village and the people doing it looked worn down but they will not tell you where it is … we cannot do anything with that information but we leave it on file and if they contact again then we can add to what we know,.
"Quite often there will be no indicator, someone might just have a bit of a feeling, but we cannot refer 'a feeling' on to the police. Normally we have to work with the person calling and identify if the concerning factors indicate modern slavery."
Caroline Young, deputy director for vulnerabilities at the NCA, said the agency was pleased with the response.
She said: "We launched the campaign because we think the public have an awful lot to offer in terms of assisting us and being able to spot … something peculiar and different going on."
Unseen said since it started operating its helpline last October there had been a steady rise in calls, from 40 a week to about 70-75.
Aidan McQuade, director of Anti-Slavery International, said the growing call numbers suggested the NCA work was helping to raise awareness, which was a "positive step forward".
However, he noted that a key concern was whether there was "appropriate capacity in policing to deal with required level of investigation needed to get a grip in this issue in the country".
McQuade said: "It's important to understand that [this problem] does not emerge in a vacuum – it's not just evil people enslaving vulnerable people it's unscrupulous people taking advantage of gaps in the law and policy or implementation of the law and policy.
"So we do tend to see slavery occurring in uninspected places … places that are not being inspected by the police and by labour inspectors … places where there are un-unionised work forces."
Young said: "[The police] have got lots of things to deal with … it's part of everyday working life, juggling those priorities but looking after those who report modern slavery is part of their core responsibilities."
Currell said tackling modern slavery was a postcode lottery: "The police are mainly doing their best and there are pockets of good practice as with anything … it can be a postcode lottery but … they are trying to deal with it in way that recognises how complex and hidden it is.
"If you look at places like Greater Manchester police or West Yorkshire and the Met, they have all got trafficking teams and have the resources … they have a single point of contact and have the capability to do that rather than provincial forces who will struggle and not have a bespoke team focused on that particular crime area."
[Source"cnbc"]