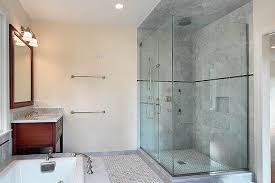 Bath enclosures won't last forever and when they finally become obsolete or break then you will need a plan to replace them. It can be tempting to replace the bath enclosure on your own to save money on labor costs. However, when it comes to bath enclosure installation, this can be one job that is best to leave to the professionals.
Can You Install an Enclosure Yourself?
Technically, you can install a new enclosure on your own but it may not always be the best idea. In certain cases, replacing the enclosure can be a straightforward process. If you have the right experience, you may be able to handle this and it can be an easy-to-install process with a standard kit. However, when it comes to enclosures that will benefit your bathroom's design, you will want to keep the job to the professionals. 
Are Enclosures Hard to Install?
Doing a semi-frameless or frameless enclosure can be harder to install than a traditional enclosure. You will need to consider if your bathroom has a unique shape or size. Do it yourself installation can be harder if you are purchasing a custom glass shower enclosure that meets precise specifications. If you are installing a run-of-the-mill shower enclosure then installation will be easier and you may not need the help of a professional. 
Expert Bath Enclosures Installation Is Worth the Cost
Nothing will be more frustrating than spending hours trying to install your bath enclosure only for you to need a professional to finish it. If you install the enclosure improperly then you will still need to contact a professional to fix the job. Start by getting help from the beginning to avoid any problems and you will be able to enjoy your bathroom quicker. 
Problems That Can Happen When Not Using a Professional
There are a number of problems that can happen if you attempt to do this on your own without the right experience. 
The acrylic pan bends when you step on it: This can happen if the installation was done wrong. Some pans are designed with substructures for support but for others, you will need to install a base underneath. You want to make sure you have a sturdy base that won't crack with proper bath enclosure installation.
The standard size doesn't end up working: Getting the right measurements can be tricky if you aren't sure exactly what you need. 
Not checking the shower curb slope: The curb of your shower is one of the most important things to consider when it comes to water containment. You want to make sure it's not level and won't slope away toward the bathroom floor. There are some other problems that can happen when it comes to an improper shower curb slope, including leakage and damage to the bathroom floor, increased risk of falling, and mildew and mold growth. 
Not choosing the right model: There are different options when it comes to a bath enclosure installation and it can be easy to choose the wrong model and install it if you aren't sure of the best ways to optimize the bathroom space.