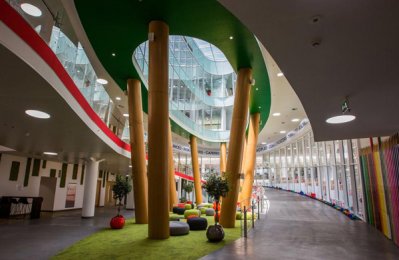 Switch Made, a leader in providing efficient lighting solutions, is setting a benchmark in driving sustainability in the education sector, having provided the eco-friendly campus of Swiss International Scientific School (SISD) in Dubai with energy-efficient LED lighting solutions.
The use of these lighting solutions underlines SISD's credentials as the first low-energy building in the Middle East, said a statement.
This marks a true international collaboration between SISD in Dubai, which brings Swiss excellence in education, and Switch Made, a French company, to redefine the education sector by pioneering a new eco-friendly school campus that benefits student well-being.
SISD in Dubai stands out as the first building in the Middle East and North Africa (Mena) region that complies with Minergie Ecolabel, a Swiss sustainable building standard that is recognised globally for achieving lower energy and resource use and a higher level of comfort.
With Minergie as the base standard for the lighting design of the school, Switch Made provides 100 per cent LED solutions for indoor and outdoor lighting of the school.
Having delivered LED lighting solutions for the first three phases of the school, Switch Made is now supplying 2,200 light fittings that are currently being installed as part of the fourth phase. Earlier, in the first phase, Switch Made provided 2,500 LED fittings and over 1.5 km of LED linear solutions.
In the second phase, 1,300 luminaires were supplied, and in the third, over 2,800 luminaires and more than 500 meters of linear solutions.
Switch Made's LED lighting solutions and on-ground technical support were a perfect fit for the school, ensuring high lighting efficiency, excellent colour rendering and aesthetic shapes, thus meeting the criteria for enhanced student-wellness as well as high levels of energy efficiency.
The key challenge for Switch Made was to meet the standards set by Minergie in terms of wattage consumption, while delivering on the design concept. The recommended LED lighting solutions met the requirements, outlined by the lighting designer, which calculated the amount of daylight received at various times of the day during different seasons of the year to determine the optimal artificial lighting needed.
Beat Sommer, head of School of SISD in Dubai, said: "We believe that social, cultural, economic and environmental awareness prepares us to play our part in shaping a better future for ourselves and those around us."
"Our school campus is eco-friendly, using less energy to deliver a more comfortable, healthier environment. Not only are we pioneering the development of a better educational environment, but also applying renewable and sustainable principles to fund our scholarship programmes. This contributes directly to the students' education while ensuring they benefit from a comfortable and healthy interior climate," Sommer said.
Jeremy Loisel, CEO of Switch Made, said: "Our partnership in driving energy-efficient lighting at Swiss International Scientific School in Dubai is another strong example of our expertise in promoting sustainable built environments through highly energy-efficient LED lighting solutions – an example of sustainability in action."
"SISD is truly a school of the future, which connects the exterior natural world with the interior educational space. We are proud to partner with SISD for this path-breaking eco-friendly campus that sets a new standard in the education sector. Our LED solutions ensure the highest standards of energy consumption and provide a healthier and comfortable environment for the children," he said.
SISD in Dubai has reduced wattage consumption from 6.01w/msq to 3.76w/msq by optimising energy consumption of fixtures away from the windows and switching off the light fixtures near them using photocells.
The large Minergie eco-friendly campus has been designed by leading architects to maximise the potential of its location by the Dubai Creek in Dubai Healthcare City. Home to over 2,000 students, including 350 international boarding places, SSID in Dubai is an inspiring place for students to live and learn in. Filled with natural light, its spacious classrooms, libraries, laboratories and sports facilities are all designed to engage the children and encourage learning.
Providing energy efficient LED solutions for SSID in Dubai further builds on a distinguished track-record of Switch Made in supporting sustainable buildings in the region including the Dewa Sustainable Building, which was the first and largest building in the world to secure the highest score in Leadership in Energy and Environmental Design (LEED) Platinum certification. In 2012, Switch Made designed and supplied 100 per cent of the lighting solutions for the building, with lighting alone accounting for over 25 per cent of the requirements of the LEED Platinum certification.
"With our competencies in providing high-end, aesthetic and energy-efficient lighting solutions for malls, commercial establishments, educational institutions and healthcare facilities – both for indoors and outdoors – we are committed to supporting the green vision of the nation through our advanced solutions that support every sector," concluded Loisel. – TradeArabia News Service
["Source-gdnonline"]