HIGHS AND WOES
Considering they bossed the first 20 and final 10 minutes of Tuesday's 5-2 defeatat the hands of Liverpool, Roma got no more and no less than they deserved from their trip to Anfield. For the hour in between, they also got just about what they deserved – ripped asunder due to their manager Eusebio Di Francesco's bizarre insistence on playing a defensive line that could scarcely have been higher if it had smoked three Camberwell Carrot worths of Weird Uncle Fiver's special Afghan Kush and Super Lemon Haze skunk surprise. Roma were duly eviscerated, their back-pedalling defenders reacting with all the calm tranquility of picnic-goers being attacked by a swarm of bees as, time and again, Mo Salah, Sadio Mané and Roberto Firmino buzzed through and around them, at times scoring at will as they established a lead that is surely unassailable.
Now's not the time to lead an inquisition," parped Di Francesco, who wasn't quite as slow to accept the plaudits when his side overturned a massive deficit to beat Barcelona in the previous round. One suspects Di Francesco may have found himself the uncomfortable subject of a decidedly medieval one upon his return to the dressing room, having ignored increasingly angry mid-match pleas from Daniele De Rossi and Radja Nainggolan to – and The Fiver may be paraphrasing here – "do some effing tactics" in a bid to change things and put an end to this modern-day sacking of Rome. In the end, Roma's players took matters into their own hands to give themselves a chance so slim it wouldn't look out of place sashaying down a catwalk during London Fashion Week.
While most of Liverpool's players and fans ended the match hanging 10 on a wave of jubilation, the atmosphere was somewhat soured early doors by a nasty looking dose of knee-knack suffered by Alex Oxlade-Chamberlain, who appeared to do himself a serious mischief while attempting to retrieve the ball from Aleksandar Kolarov. "Oxlade-Chamberlain's injury looks like a really bad one," said Jürgen Klopp. "It's never a good sign if you can tell before the scan. It's obviously a massive blow for us." A blow for Liverpool in general and the recently rejuvenated Oxlade-Chamberlain in particular, but considering his team had yet to score before his departure, one suspects they might just survive.
LIVE ON BIG WEBSITE
Join Barry Glendenning from 7.45pm BST for hot MBM coverage of Bayern Munich 2-2 Real Madrid.
QUOTE OF THE DAY
"This was a carefully considered decision and we knew it would be controversial, but this is about people not governments. It has never been my intention, nor that of the club, to get involved in a political debate in Myanmar. However, if because of the tour we further highlight the ongoing serious issues in certain areas of the country, then maybe that is a positive thing" – Nasty Leeds owner Andrea Radrizzani opts for the little-used "it's a good thing we're touring the country of a regime accused of ethnic cleansing and human rights abuses" angle. You should probably read Marina Hyde on the debacle.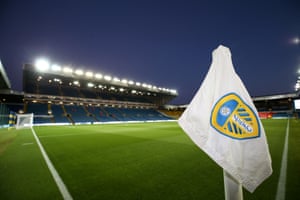 SUPPORT THE GUARDIAN
Producing the Guardian's thoughtful, in-depth journalism – the stuff not normally found in this email, obviously – is expensive, but supporting us isn't. If you value our journalism, please support us by making a one-off or recurring contribution.
THE FIVEЯ
Yes, it's our not-singing, not-dancing World Cup Fiver. Out every Thursday lunchtime BST, here's the latest edition.
FIVER LETTERS
"I welcome the massive increase in quality due to the widespread redactions in yesterday's Fiver. Might this policy now be usefully applied to the whole email?" – Matt Kersley.
"It was interesting to hear Roma coach Eusebio Di Francesco say, after Tuesday's hammering, that they conceded the fifth goal to Liverpool because the players were playing 4-2-3-1 when he told them to play 4-3-3, and that Roma's problem wasn't his tactics of playing a high line but that they lost too many individual duels. His players must love him" – Noble Francis.
"As a reader of The Fiver for many years, can I offer you my congratulations? You did it yesterday, well done, a genuine laugh. I don't know who your new contributor Robert Macmillan is and why he is required to send letters to you, but his joke about being happy to pay £640 for a pair of football tickets was hilarious. Keep it up" – Paul White.
"Thanks so much Fiver, for the excellent 'bad words at the fitba' (yesterday's last line). Heartfelt stuff, however that was mild and quite eloquent, compared to the things my Glasgow-born father used to shout from the touchline when I made my all-too-regular goalkeeping errors. It got so bad that he was eventually banned from watching my matches until I'd gone up to junior school" – Tony Crawford.
Send your letters to [email protected] And if you've nothing better to do you can also tweet The Fiver. Today's winner of our prizeless letter o'the day is … Matt Kersley.
THE RECAP
Get the best of Big Website's coverage sent direct to your inbox every Friday lunchtime (GMT). Has the added bonus of being on time. Sign up here.
NEWS, BITS AND BOBS
Two Roma fans have been arrested and charged with attempted murder following an attack outside Anfield that left 53-year-old Liverpool supporter Sean Cox with serious injuries. "[We are] deeply shocked by the vile attack and our thoughts are with the victim and his family," read a Uefa statement.
Thibaut Courtois and his father Thierry have initiated legal action against Marc Wilmots after the former Belgium manager accused them of leaking team information.
Arsène Wenger has provided the clearest indication yet that he didn't want out at Arsenal. "The timing was not really my decision," he sighed.
Blackeye Rovers are back in the Championship after sealing promotion with a 1-0 win at Doncaster. "It's hard to put it into words," cooed midfielder Bradley Dack, before putting it into words. "To share it with people I have only known for a year, with the team spirit we have in the dressing room, it's a special feeling."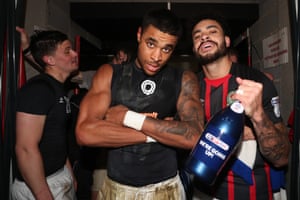 Hats off to the Chesterfield website, which is yet to make reference to their relegation from League Two.
This year's PFA Scotland player of the year shortlist comprises Kilmarnock striker Kris Boyd, Queen's Celtic pair Scott Brown and James Forrest, plus Hibs midfielder John McGinn. Good old Scottish fitba.
And Brechin, still to win in the Scottish Championship this season, are offering cut-price tickets, free entry for schoolchildren and a complimentary drink [hopefully strong – Fiver Ed] to season-ticket holders for Saturday's game with Queen of the South.
STILL WANT MORE?
Cheltenham striker Mo Eisa grew up in Sudan and does a decent line in understatement – "They have obviously had a few issues and civil wars." Ben Fisher gets the lowdown on an extraordinary journey.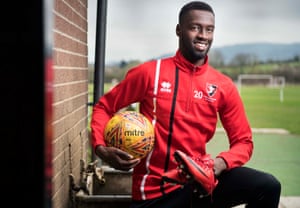 Brazil went unbeaten to win women's Copa América Femenina, writes Brenda Elsey, but everyone left the tournament happy.
Which teams have been relegated at the end of the same match? The Knowledge has the answer.
The ghost of Lord Ferg lingered long after his Old Trafford exit. Arsenal might get spooked on Sunday, writes Paul Wilson.
"It was like being caught in a Stephen King story" – the Italian press didn't hold back on Roma's gubbing, reports Paolo Bandini.
Mo Salah, eh? He's a bit good, muses Barney Ronay.
Liverpool have little to fear in the second leg, reckons Andy Hunter.
Paul Wilson recalls five other Liverpool European nights to remember.
Oh, and if it's your thing … you can follow Big Website on Big Social FaceSpace. And INSTACHAT, TOO!
source:-w.theguardian