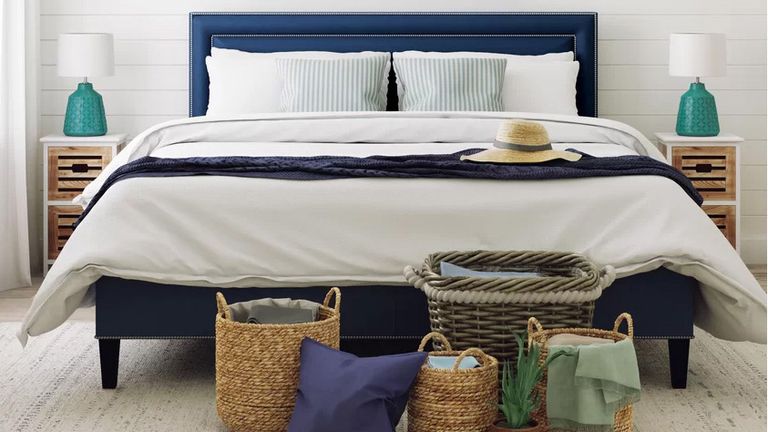 Desperate for storage ideas for small bedrooms? The biggest issue we find with small bedrooms is, by far, their lack of storage and, in particular, clothes' storage. But with a little bit of creativity, even the smallest of bedrooms can become a cosy, clutter-free haven.
Our comprehensive guide to small bedroom storage ideas covers everything from storage benches to clever small bedroom furniture, and has something for everyone, whether you are on a budget, move house a lot, or are ready to invest into a more permanent solution.
Storage sorted? Find out how to design the perfect bedroom in our essential guide, and browse our small bedroom decorating ideas.
1.  BIG SMALL BEDROOM STORAGE IDEA: CHOOSE AN OTTOMAN STORAGE BED
Let's face it: the bed takes up by far the most room in a small bedroom, especially if you have a double or king sized one. So, it makes sense to let a storage bed – take a look at our pick of the best beds with storage – do the hard work of storing bulky bedding, pillows, and duvets; moreover, if you opt for storing most of your things in the bed, you can keep the rest of your bedroom furniture minimalist and dainty.
We particularly like the luxurious and smart-looking Hindon Ottoman Storage Bed from Willow & Hall – its storage compartment is split in two, which makes sorting things even easier.
2. DITCH THE WARDROBE FOR A STREAMLINED SMALL BEDROOM STORAGE IDEA
A wardrobe is a must-have, but it also tends to be the bulkiest, and least forgiving in small bedrooms. So why not go without? Your bedroom needn't be messy, especially if you don't own tons of clothes – a neat wire clothing rail may well do the trick, if you only use it for your most worn items.
We think the Vintage Style Dress Rail from Cox & Cox will add a touch of shabby-chic elegance to any small bedroom.