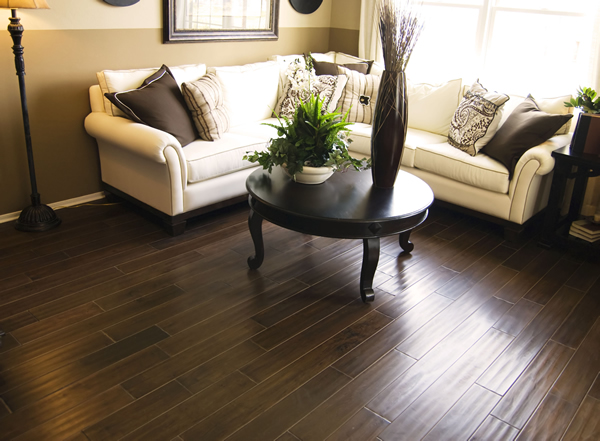 If you're thinking about what to get your special guy or gal for Valentine's Day, you're probably mulling over flowers, candy, fruit arrangements, a romantic dinner, or even an out-of-town getaway. What you're probably not thinking about is flooring.
Flooring isn't sexy. It's not a traditional gift that tells your partner, 'I love you'. And if your budget is limited, a gift of flooring may not be your best bet. Still, imagine your special someone rolling out of bed and remembering you every day when he puts his feet down.
Hardwood is still the most popular flooring in our market area. Red oak, white oak and maple are among the favorites for home use, since they can withstand several sandings and can be easily stained a variety of shades from natural to dark. They come in widths from 2" to 7" or more, allowing you to create a formal look, a contemporary casual vibe, or even a geometric parquet.
Other hardwoods include hickory, birch, ash and beech. Exotics such as the Brazilian cherry that had a short life here in the early 2000s, Santos Mahogany, Tigerwood and Teak are among the most expensive options, perfect for a trend-setting flooring aficionado who wants to make a bold statement.
I once owned a house in South Carolina where the floors were made of yellow pine, a softwood that aged beautifully in the sunlight to a reddish-gold hue. We frequently see its cousin, heart pine, in our antique rowhouses. Spruce, fir and cedar are other choices for lightly trafficked areas. They are, as the name implies, soft, so be careful with furniture legs and high heels, which will cause dings and dents.
Engineered wood is a less-expensive but still popular option and comes in a variety of styles and colors. Since these floors feature a man-made composite core with actual wood on top and bottom, they absorb much less moisture than hard or softwoods, so are an excellent choice for basements and beach houses.
Bamboo is an ecologically friendly flooring and comes in several styles and colors but use caution. Flooring from this renewable plant may emit low volatile organic compounds (VOCs).
My colleagues who sell real estate in the South and West still tout laminate flooring as an upgrade. It has come a long way in durability and design from the original Perstop product, Pergo, and is still easy to install and maintain.
Terrazzo floors are found in the old cottages in Miami Beach and Key West, Fla. A surface made of concrete with bits of granite or marble aggregate, Terrazzo is installed as a poured floor or in precast sections, often with custom inlays, then polished. Do get a professional to install it, though – this is a job for a specialist.
Concrete itself made its debut with loft and industrial-style renovations. Like Terrazzo, concrete can be infused with color, glass and aggregate, then polished or finished with a textured surface. Pay attention to the sealing instructions to avoid stains when your red wine-drinking friends get a little tipsy.
You can also create decorative effects with ceramic or porcelain tile. Try a checkerboard pattern or lay them on a diagonal. Choose an 18" or 20" version or go for wood-look tiles in 8" x 24" strips. Use pre-made mosaic sheets to mimic the bathroom floors found in older homes.
Don't forget vinyl when you have a lot of floor to cover and a small budget. DIY installation of peel and stick tiles has been known to make grown men cry, but I recently had sheet vinyl installed in a bayside utility room. It's soft and warm underfoot, as well as easy to clean. Wood-look vinyl planks are also gaining popularity in humid climates.
Inside the beltway, carpet, while warm and comfy, has been banished to the bedroom. In other parts of the country, however, carpet still holds its own throughout the house. Choose a level loop Berber or a multi-level loop pile for a bit of texture, or a cut loop plush for a more traditional look. Frieze carpet is a fresh take on '70s shag.
While choices of floor coverings may seem overwhelming, hustle down to the home improvement store and place an order for your favorite. Then, on Valentine's Day morning, you can whisper the words your beloved has been waiting to hear – "Get up and help me unload the truck."
["Source-washingtonblade"]