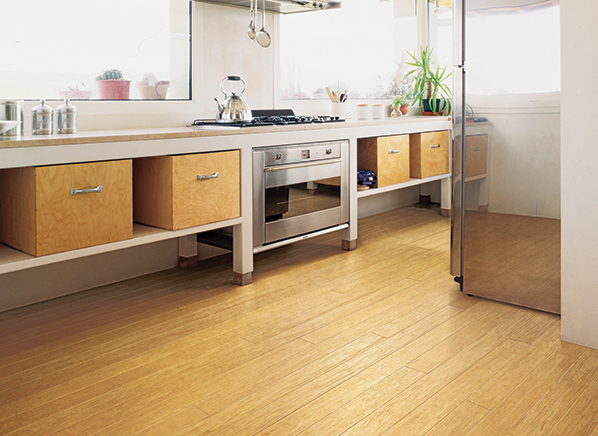 Whether you're spiffing your home up for sale or just updating a room, wood is America's favorite choice for flooring. But it's not practical for every room.
There are now options that not only look just like the real thing, but can be installed in rooms where wood can't. Consumer Reports put the faux wood flooring through rigorous tests to see which were the best.
When Rachel Trobman updated her guest room, she wanted the look of wood and weighed the options.
"We knew the cost associated with wood. Everything, like, from staining it to the fact that we couldn't put it down ourselves. We knew that wasn't in our budget," Trobman said.
So instead, they opted for tile that looks like wood and is more durable. Consumer Reports says are rooms where real wood should be avoided.
"Wood's really nice in a kitchen because it lends warmth. But it can dent and show wear, which is why some of these new options are nice. They also give you the look of wood in spaces where you can't normally use it, like a bathroom or a laundry room," Consumer Reports Home Editor Paul Hope said.
Consumer Reports' rigorous floor tests focus on the wear layer, to see how quickly surface wear is noticeable after repeated passes with an abrasion tester, whether it's resistant to dents and scratching, and whether it fades in the sun over time.
Consumer Reports tested dozens of flooring products that mimic wood and found many that can stand up to wear and tear.
"You really want to match the material to the room, based on things like traffic, sunlight and how much wear and tear you expect," Hope said.
Consumer Reports found some excellent candidates that could pass for the real thing.
A porcelain tile from Lumber Liquidators looks like Brazilian cherry. Its resistance to traffic, scratching, and cracking make it an ideal choice for a kitchen or mudroom.
For high-traffic areas, a vinyl tile from Armstrong fends off stains and scratches well, and comes in four shades.
If you're on a budget and want to smarten up a space, an easy-to-clean laminate from Pergo is just $2.80 per square foot at Home Depot, but looks like it came from Mother Nature.
Consumer Reports says variations can occur from one batch of flooring to the next. Buy all the flooring you'll need at one time, so the colors will match.
For laminate flooring, the boards within a given box will often have a similar pattern. To reduce repetition, mix boards from different boxes when you lay it down.
["Source-abc7chicago"]