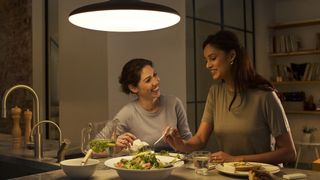 Smart lighting is perhaps the most accessible area of the smart home, requiring little explanation, installation, and fiddling in order to enjoy the benefits of lighting that you can control from your phone or with your voice, and which changes tone, brightness and even color.
Without a doubt the biggest name is smart lighting is Philips Hue, but that doesn't mean it's the only horse in the race – far from it.
There are some truly excellent offerings from companies such as Lifx if you're looking for more of a talking-point; Hive if you're on a budget; or Nanoleaf if you'd rather your lighting be a design feature in your home.
Each system comes with its own pros and cons, so here we'll talk you through the brands you should be aware of, plus which illumination solution will be the best fit for you and your home.
Philips Hue
The biggest name, and for good reason
Wattage: 10 W | Color: +16 million colors | Color temperature: 2,000-6,500K | Lumen output: 806 | Lifetime: 25,000 hours | Height: 109.2mm | Diameter: 62mm
There's a very good reason why Philips Hue is the biggest name in the smart lighting scene: it's without a doubt one of the greatest offerings to the market. The lights produce the most natural tones of any smart lighting we've used, the app is easy to use, and installation is a doddle.
That said, you can't use the Hue lights without the hub, meaning the only way to get started is with a starter kit that's going to set you back considerably more than just a light bulb would.
It's also worth noting that there are a variety of different lighting kits and bulbs available in the Hue range, so you've got the choice of White (which just does white light), Color (which offers over 16 million colors), and Ambient variants of both (which gives you the option of dimmer, softer tones).
They all work from the same hub, so you don't need a new hub for each lighting set, but it's worth doing your research and really thinking about what you need before you invest. 
LIFX
Funky, fresh, and dressed to impress
Wattage: 11 W | Color: 16 million colors | Color temperature: 2,500-9,000K | Lumen output: 1100 | Lifetime: 25,000 hours | Height: 114.8mm | Diameter: 62mm
Affordable single-bulb setup
Vibrant color options
No natural-looking light options
Large form factor
Lifx is an interesting proposition in the smart lighting market. It doesn't try to replicate the standard warm glow of a filament bulb, instead focusing on bright and vibrant colors.
If you're looking for a feature light, something that's going to bathe your room in a warm red or deep purple glow, this is the one for you. With a fun color wheel and brightness settings that go from 1-100%, the customization options are so varied that they can get overwhelming at times.
But this is no gimmick light. While turning it on for the first time may give you a bit of a shock, the light it emits is actually very warm, and a real pleasure to sit in.
Like Hue, there are a number of options with Lifx bulbs, including a '+' version of its bulbs, which include a night mode that enhances the night vision of indoor security cameras by emitting a low-frequency light.
Read the full review: Lifx
Nanoleaf Light Panels
Makes your lighting match your mood, or your music
Wattage: 60 W | Color: 16.7 million colors | Color temperature: 1200-6500K | Lumen output: 100 LM/Panel | Lifetime: 25,000 hours | Height: 210mm |
You like light but hate light bulbs. We get you. They're so bulb-y. So maybe Nanoleaf is going to be more up your street.
The Nanoleaf Light Panels (formerly known as Aurora) take the concept of lighting and turn it base-over-apex. Using a collection triangular panels, you create a dynamic shape on your wall (or ceiling, or both) that can shift through over 16 million different colors.
What's more, with the separate Rhythm Module, the Nanoleaf can even respond to audio cues from the room it's in, so it can respond to music, putting you in the centre of your own music video.
If you'd rather decide what the light panels are going to do in advance, you can choose from a vast repository of user-created scenes that run through different aesthetically-pleasing configurations.
The original set comes with nine panels, but you have the option to add more, and there are even corner clips to enable you to create configurations that bend around corners, creeping around walls and even onto your ceiling if you so wish.
Source:-.techradar